Reserve a Space
Designed to facilitate your next meeting, study group, or social gathering.
Tech Hub features several reservable spaces to accomodate a variety of needs and interests. Whether you're looking to study, explore emerging technologies, or just have fun, Tech Hub has a space for you.
How can I use one of these spaces?
If you have questions about these spaces or would like to make a reservation please contact us at techhubbooking@osu.edu with your questions and requests.
Collaboration Space
Need to meet in small group to hash out your next great project or study for an exam? Or maybe you just need to recharge your phone or iPad? Try one of our comfortable booths equipped with charging stations. Seating at each booth accommodates four people comfortably. If you're in the mood to just unwind for an hour or two, we offer a variety of boardgames, books, and toys for your amusement.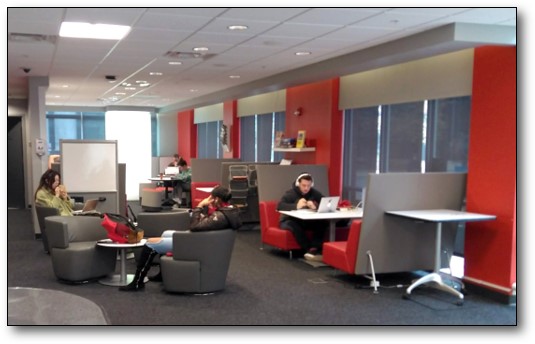 This space includes:
White Board for meetings and study groups
Various board and card games available such as Catan, Azul, Coup, Ticket to Ride: Europe, and more
Selection of reading material including books and magazines
Rubik's Cube, Legos, Etch-a-Sketch, plus other toys and

curiosities
Tech Demo Space
Explore emerging technologies with your friends in our Tech Demo Space. Featuring seating for two and a dedicated play area, there's plenty of room to delve deep into virtual reality, spatial computing, robotics, and more.
Game Console Space
Blow off some steam between classes in our game console space. Our current generation consoles each feature a student curated collection of the latest releases and classic titles. Have it all to yourself or invite up to 4 of your closest friends/fiercest competitors. It's up to you.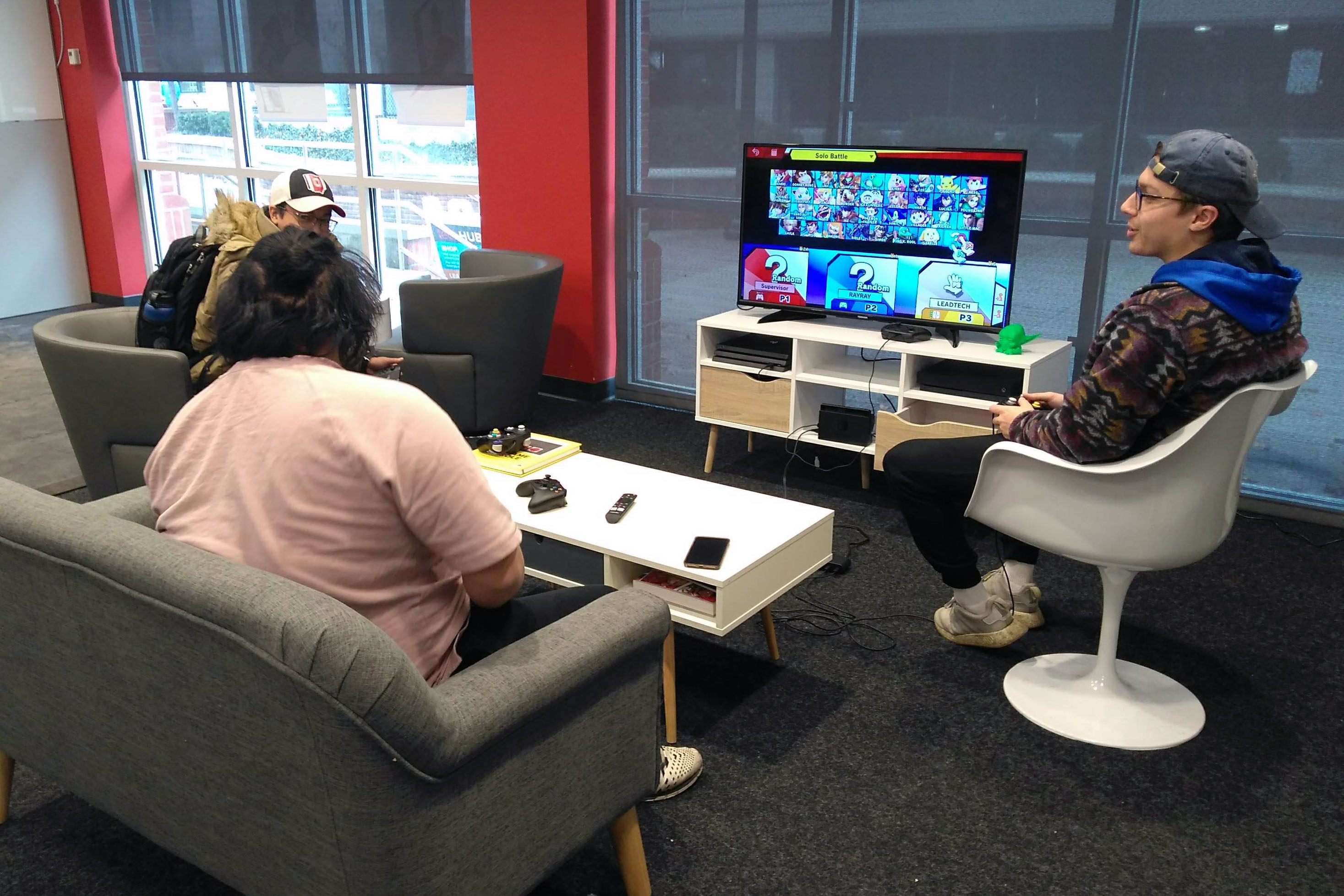 This space includes:
Xbox One X loaded with Overwatch, Fortnite, No Man's Sky, Call of Duty: Modern Warfare, Star Wars Jedi: Fallen Order, and more; Online multiplayer available using our

Xbox Game Pass Ultimate account

PlayStation 4 Pro running Apex Legends, Rocket League, Horizon Zero Dawn, Marvel's Spider-Man, and more; PS Now enabled for streaming select PS2, PS3, and PS4 titles; Online multiplayer available via our PlayStation Plus account
Nintendo Switch including Super Smash Bros. Ultimate, The Legend of Zelda: Breath of the Wild, Arms, Mario Kart 8 Deluxe, and more; Choose to play with Joy-Cons or Pro Controllers; Online play ready
4K AppleTV featuring AppleTV+ and Apple Arcade
Classic console content including N64, SNES, Genesis, Atari, and arcade games; Retro styled controllers for a more authentic experience, including an X-Arcade Tank Stick with spinner and full-sized trackball
PC Gaming Space
Our PC Gaming Space is a good fit for one to two people looking to squeeze some extra fun into their busy schedules. Outfitted with high-end Alienware hardware, comfortable gaming chair, and robust mechanical keyboard, this space is all about performance and comfort.